Mariotti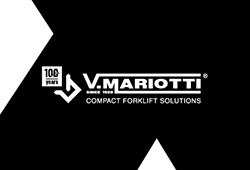 Mariotti's range of 3-wheel counterbalanced electric trucks is the sturdiest most complete in the world for handling small loads of between 750 and 3000 lbs. Their strongest feature is their smaller size, which allows them to work in confined spaces where conventional forklift trucks cannot normally be operated.
Built for intensive usage with maximum technology and labor quality, the Mariotti unit will work alongside you throughout all your loading, unloading, handling and stacking operations, as well as when you are operating in areas of production, both indoors and out.
You'll be astounded by our trucks' compactness, versatility and performance and the way that they will respond to your every need.
Operator and load safety, speediness and working comfort, reduced maintenance and energy consumption will result in improved efficiency, productivity and produce savings in time and money.
Electric forklifts
Perfectly suited for multiple type of applications, with several models specifically designed for outdoor applications subject to inclement weather. Low noise and vibration for reduced operator fatigue. Low energy consumption. Require minimal maintenance and repairs.
Offered services
Whatever your need, Elevex is here to help. Due to a large inventory of parts in stock, we can offer the kind of fast and efficient service that will get your forklift up and running in no time, with minimal loss of productivity.
Regulations require every operator to have proper training for driving a forklift. With the goal of heightening performance and safety, our training experts offer sessions that are specifically catered to the needs of each forklift operator along with personalized post-training care. We also offer training for in-house mechanics.
Forklift fleet management
Fleet management analyses real-time forklift data to optimize performance, safety, and reduce operational costs.
Battery and charger maintenance
The proper inspection and maintenance of battery components is essential for optimal operation and increased longevity.
Our team of technicians is highly experienced and benefit from continued training to make the right diagnosis and identify what parts are needed, regardless of brand.
Planned maintenance programs
The downtime of your equipment can be expensive, so it is advisable to opt for a quality after-sales service and regular maintenance. This way, unplanned failures can be reported and resolved at an early stage. Various maintenance programs are available to meet your needs.